2014 Hyundai Azera
503 products
Reading Time: 02 min 37 sec.
Table of Contents
1.
Summary
2.
2014 Hyundai Azera
3.
Best Replacement Parts for your 2014 Hyundai Azera
4.
How to improve the performance of the 2014 Hyundai Azera?
5.
Why Choose Genesis Tuners
6.
Takeaways
Summary
The 2014 Hyundai Azera is a new luxury car with headlamps and tinted windows. In order to upgrade a 2014 Hyundai Azera, it is recommended that you change the headlights and grilles. Genesis Tuners recommend HKS suspension parts for a Hyundai Azera to improve the car's handling and cornering.
2014 Hyundai Azera
The midway point between traditional luxury sedans and full-blown premium wagons, the 2014 Hyundai Azera sits in a sweet spot that makes it an appealing value proposition for calm car buyers. The first thing you'll notice about Hyundai's flagship is its beautiful face, courtesy of massive headlamps with jeweled C-clamps epoxy masked around the inner lens, tinting their perimeter to match body paint color. Other stalwart features also come into view as you scrutinize this performance machine sitting before you.
Best Replacement Parts for your 2014 Hyundai Azera
Considering the 2014 Hyundai Azera does not come with projector lenses, upgrading them to Sonar HID lights from Spyder Auto instantly gives your ride an entirely new look. They will give your car much better visibility during night drives and eliminate glare from oncoming traffic. To add to that change, we recommend also changing out the grilles to T-Rex Grilles. They make nice-looking custom grilles for Hyundai's out of California, USA. The second upgrade we recommend is Sparco racing seats. They give your ride an aerodynamic flair while also offering the driver/passenger a better grip during cornering and a much more rigid, supportive feel to them in terms of support and comfort! Last but not least is EGR body kits that come in both front bumper and rear bumper variations. They'll add an aggressive look to your Azera right off the bat while also giving it that fierce aura whenever you're driving around town!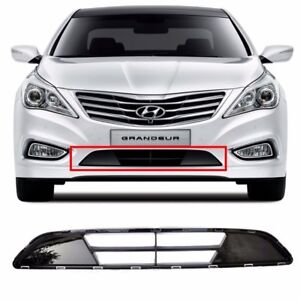 How to improve the performance of the 2014 Hyundai Azera?
To improve the performance of the 2014 Hyundai Azera, Genesis Tuners recommend replacing a few parts: To help you improve your cornering and handling, we suggest installing aftermarket suspension components from HKS. Their wide array of suspension parts will help you get the Hyundai more stable around corners. Replacement pistons and cam followers from Supertech can help to add horsepower to your car. We recommend changing out all your fluids and lubricants with those from MOTUL. They use only high-quality materials in their products which are essential for getting every last drop of power out of your Hyundai engine!
To improve the sound of your Azera, we recommend that you replace the stock exhaust systems with a Borla Exhaust Kit. Borla makes some of the most affordable and highest quality exhaust system kits on the market today. They have the cat back and axle back mufflers for all vehicles they make their exhausts for, as well as high flow catalytic converters to help keep those engine codes away from your car. Get one from us at Genesis Tuners today.
Why Choose Genesis Tuners
When it comes to finding parts for your 2014 Hyundai Azera, you're in the right place. Our team of specialists has years of experience selling Hyundai replacement and aftermarket parts, making us the original go-to place for any part needs. We aim to serve all our customers with knowledgeable insight and helpful advice for buying new or used Hyundai replacement parts. Feel free to contact us today!
Takeaways
1. The 2014 Hyundai Azera does not come with projector lenses, so it is recommended to change out the grilles and install Sonar HID lights.
2. Hyundai Azera owners should install aftermarket suspension parts to improve handling.