2015 Hyundai Equus
321 products
Reading Time: 02 min 46 sec.
Table of Contents
1.
Summary
2.
2015 Hyundai Equus
3.
Best Replacement Parts for your 2015 Hyundai Equus
4.
How to improve the performance of the 2015 Hyundai Equus?
5.
Why Choose Genesis Tuners
6.
Takeaways
Summary
The Equus is a luxury sports sedan that costs less than other cars of the same caliber. The first upgrade we recommend is new headlights and the second is a set of T-Rex Grilles that come in both front bumper and rear bumper variations.
2015 Hyundai Equus
The Equus falls somewhere between a sports sedan and a luxury sedan. From the outside, it looks like a much more expensive car than its base price would suggest. It has a lot of chrome plating on the body, although plastic covers most suspension pieces to reduce cost. The interior is filled with fine leathers, polished woods, and metal accents - along with all sorts of electronics designed to protect the driver from harm as well as paying for their grocery bills after they've gotten back from another long road trip! The Equus does not have many engine options - just one, really - but that's enough to keep things interesting. With just under 400 horsepower available under your right foot at any given time (and over 500 horses when you're ready to go hard), you'll never need a faster car just because this one can't take you fast enough!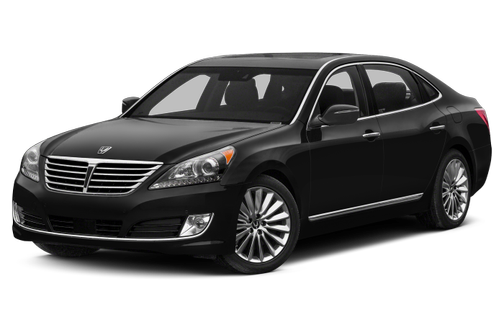 Best Replacement Parts for your 2015 Hyundai Equus
The first thing we recommend is a new set of headlights. Considering the 2015 Hyundai Equus does not come with projector lenses, upgrading them to Spyder Auto's LED lights will give your car much better visibility during night drives and eliminate glare from oncoming traffic. The second upgrade we recommend is T-Rex Grilles that come in both front bumper and rear bumper variations. They'll add an aggressive look to your Equus right off the bat while also giving it that fierce aura whenever you're driving around town. Last but not least is Sparco racing seats. They give your ride an aerodynamic flair while also offering the driver/passenger a better grip during cornering and a much more rigid, supportive feel to them in terms of support and comfort!
How to improve the performance of the 2015 Hyundai Equus?
Genesis Tuners recommend replacing a few parts for your 2015 Hyundai Equus: We suggest installing an aftermarket blow-off valve from TurboXS. This will work together with your turbocharger to cut back on lag and boost leakages simultaneously! Replace all of your OEM air filters with high-performance products from K& N Air Filters. To go along with that filter swap, install new exhaust systems made by XDP that will help you get rid of unwanted sound waves under heavy load conditions! Genesis Tuners recommends adding large intercoolers so you can better control the temperature in your engine compartment while pushing its limits during track days or drag racing events!
To make the sound of your 2015 Hyundai Equus more aggressive, get an exhaust kit from Greddy or Borla. They both make great-sounding and affordable Cat-Back systems that are easy to install on your car. Plus they come with detailed instructions which makes it even easier for you to put them in yourself without having an auto shop do it for you, saving money and improving your car's sound at the same time. Get a set from us at Genesis Tuners today!
Why Choose Genesis Tuners
We're Hyundai enthusiasts at Genesis Tuners, and we know that the 2015 Equus is an important vehicle to our customers. As such, we strive to be the go-to place for any and all parts needs for your 2015 Hyundai Equus. Feel free to contact us today, and we'll be happy to help you!
Takeaways
1. The Equus falls between a sports car and a luxury sedan.
2. You should upgrade your car's headlights and grill.
3. Genesis Tuners recommend changing the air filters and exhaust for a Hyundai Equus.