2015 Hyundai Azera
459 products
Reading Time: 02 min 41 sec.
Table of Contents
1.
Summary
2.
2015 Hyundai Azera
3.
Best Replacement Parts for your 2015 Hyundai Azera
4.
How to improve the performance of the 2015 Hyundai Azera?
5.
Why Choose Genesis Tuners
6.
Takeaways
Summary
The 2015 Hyundai Azera is a good looking car for buyers on a budget. Spyder Auto recommends a set of headlights and taillights for the 2015 Hyundai Azera. To improve the performance of your car, replace the air intake system with an AEM filter and change out your suspension.
In the past five years, Hyundai has undergone a complete transformation from a company that made cheap-to-operate cars for buyers on a budget into an upstart automaker prepared to go head-to-head against established rivals. The 2015 Hyundai Azera proves this point by bringing good looks along with strength and poise. Though its exterior isn't as striking as some competitors', there are plenty of details lurking under Azera's clean lines that make it worth your consideration if you're looking at sedans in this price range. An elegant instrument cluster featuring large gauges flanked by analog vents that hark back to classic times while also doing double duty compared to standard climate controls. Below these attractive details are key ingredients full-size luxury sedan buyers expect - power, comfort, safety, and value.
Best Replacement Parts for your 2015 Hyundai Azera
The first thing we recommend is a new set of headlights. Considering the 2015 Hyundai Azera does not come with projector lenses, upgrading them to Spyder Auto's LED lights will give your car much better visibility during night drives and eliminate glare from oncoming traffic. The second upgrade we recommend is Spyder Auto tail lights for the 2015 Hyundai Azera. Not only do they increase the lighting scheme of your vehicle, but they'll also make it look sleeker when seen from behind! Another upgrade is EGR body kits that come in both front bumper and rear bumper variations. They'll add an aggressive look to your Azera right off the bat while also giving it that fierce aura whenever you're driving around town. Last but not least is Seibon carbon fiber hood and trunk replacements that will make your Azera look like something straight out of a magazine!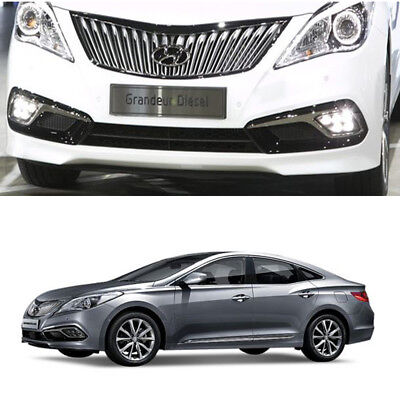 How to improve the performance of the 2015 Hyundai Azera?
To improve the performance of the 2015 Hyundai Azera, Genesis Tuners recommends replacing a few parts: We recommend adding an air intake from AEM Intakes to your car's engine compartment. This will help reduce heat under heavy load and allow more horsepower to come out of your Azera engine system. Replace your factory suspension with higher-performance ones from Whiteline. These suspensions will help you steer quicker around corners and keep you out of trouble! Swap out all your fluids and lubricants with those from Fuel Injector Clinic. The high-quality materials in these products will handle larger amounts of fuel than those found in-stock vehicles, giving you extra power throughout each gear shift!
We recommend getting an Apexi exhaust kit for your Hyundai Azera. They make some great-sounding and affordable mufflers that are easy to install on any vehicle they make them for. If you want to be able to hear the sound of your car when it's speeding down the road or revving in a parking lot, then get an axle-back exhaust system or cat-back from us at Genesis Tuners today.
Why Choose Genesis Tuners
Buying Hyundai replacement parts is a great way to save money and maintain the quality of your 2015 Azera. Here at Genesis Tuners, we have a dedicated staff specializing in finding you the right part for your car. Call or email us today for more information!
Takeaways
1. Spyder Auto recommends a new set of headlights and taillights for the Hyundai Azera.
2. The Azera needs an intake system to help with its engine performance and suspension systems